A Great Gift for YOU! Or for a Crafty Friend
If you've ever thought about joining Bluprint's annual subscription (normally $79.99/year) , now is a great time to join.
(Bluprint was formerly known as Craftsy)
Honestly this is an unbelievably super deal!!
I've been a member for a while now and I highly recommend it. The classes are so well done and easy to follow along. And there are so many to choose from!
Here's what you get:
Unlimited Access to ALL their online classes.
12 Own Forever Classes (This Alone makes the subscription worth it!!!!)
15% off any materials you purchase and they often have great deals already on yarn, patterns, and more.
Free Shipping
Honestly, I'm not big on subscriptions, but the deal that is being offered by Bluprint right now is really too good to pass up.
Why?
Because even if you let your subscription run out at the end of the year term, you will still have 12 classes that you get to keep FOREVER.
So during the next 12 months you can take any of their thousands of crafting classes in any of these categories:
| | | | |
| --- | --- | --- | --- |
| Baking | Entertaining | Paint | Yoga |
| Cake Decorating | Family | Paper Crafts | |
| Cooking | Fitness | Photo | |
| Crochet | Healthy Eating | Quilt | |
| Dance | Home Decor | Sew | |
| Draw | Jewelry | Woodwork | |
| Embroider | Knit | Writing | |
And you will also get to keep any 12 of those classes forever. Usually with a subscription service, at the end you are left with nothing unless you keep up the subscription. Not with this deal.
Let's take a look at the easy math of this decision.
Their normal monthly subscription is $7.99 for unlimited classes. On an annual basis that would be 12 x $7.99= $95.88.
If you sign up for their annual rate, the cost is $79.99 for the year.
Right now their annual rate is 50% off! Just $39.99 for a whole year!
But remember those 12 classes you get to keep. The average class ranges from $15 – $40, so let's just say the average is about $25.
If you purchased 12 of their classes that would cost you roughly $300.
Just on the classes alone that you get to own, this is an amazing deal!
Even if you planned to buy just 2 or 3 classes this year from Bluprint, that would cost you MORE than this annual membership with these great benefits.
So really if you're interested the answer is YES!, go for it! The deal doesn't get any better than this!
When They Ask, "What Do You Want for Christmas?" Say Bluprint!
My mom, my son, my partner ask me each year, what do you want for Christmas? There's not much I want, but I let them buy me this! It's really the gift that gives all year long.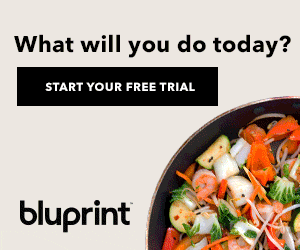 What Do You Think?
Have you tried Bluprint classes? What did you think? Let me know in the comments below!
Thanks for reading and playing yarn with me this year!
xoxo, Kris